Single Cable Connection with USB Type-C
The FlexScan EV2785 comes with a USB Type-C port. With a single USB Type-C cable you can transmit both video
and audio signals, transfer data, and supply up to 60W of power to attached devices such as smartphones and
laptops. What's more, it has an internal power unit so no external AC adapter is required.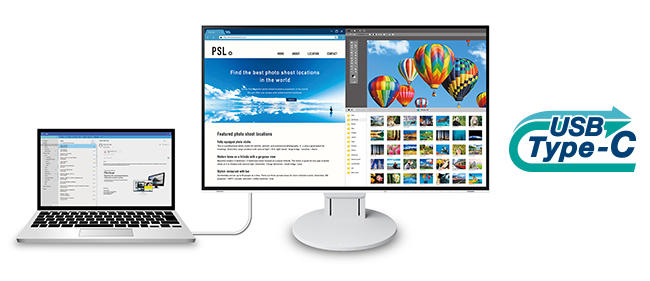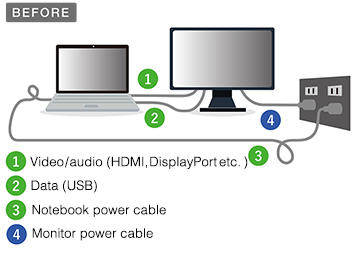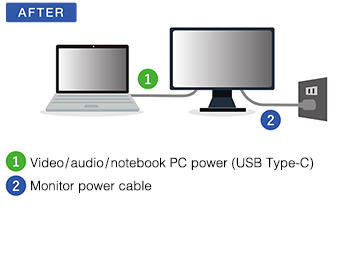 60 W Power Supply for Use with High-End Notebooks
The USB Type-C terminal supplies up to 60 watts of power making it ideal for use with XPS, MacBook Pro,
and other high-end notebooks.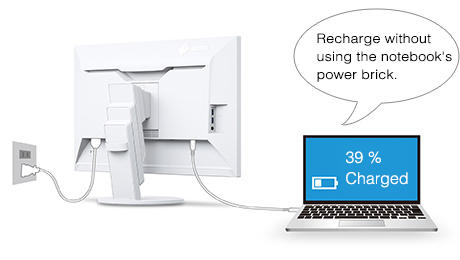 4K Resolution – Text and Images in Crisp Detail
The EV2785 features a 27-inch screen with a 4K resolution for a tight pixel pitch of 163 ppi. Furthermore an LED-
backlit IPS (in-plane-switching) LCD panel is used which produces deep and vivid colors.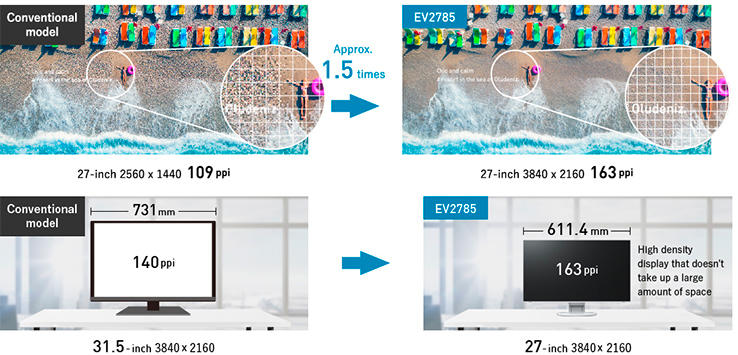 With a bezel width of only 1 mm on the top and sides, the EV2785 is virtually frameless. Even with the 6.4 mm black
borders along the perimeter of the LCD, there is only 14.8 mm between the display area of each screen in a multi-
monitor configuration, which makes for almost seamless viewing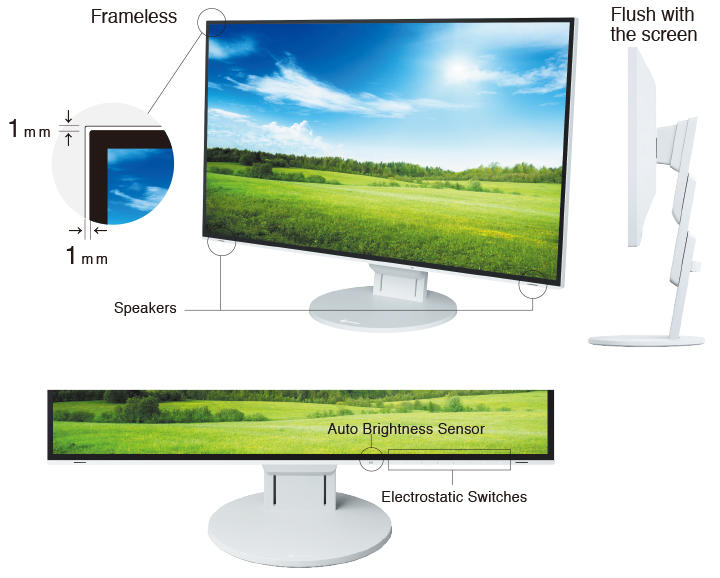 Beautiful from Front to Back

Say Goodbye to Tired Eyes
To prevent eye fatigue, a brightness sensor called
Auto EcoView detects the changes in the ambient
brightness that occurs throughout the day and
automatically adjusts the screen to the ideal
brightness level.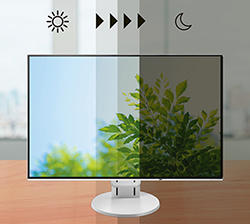 In the visible light spectrum, blue light has wavelengths
adjacent to ultraviolet light. Compared to the factory
preset setting of 6,500 K of typical LCD monitors, Paper
Mode is closer to the spectral distribution with long
reddish wavelengths so it reduces the amount of blue
light, a cause of eye fatigue, and helps prevent eyestrain
when reading documents.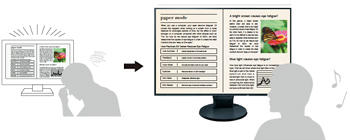 1% – 100% Brightness Range
In a dimly-lit work environment, a monitor with low
brightness settings is more comfortable to use. With its
LED backlight, the monitor is adjustable to
approximately 1 cd/m² which is less than 1% of the
maximum.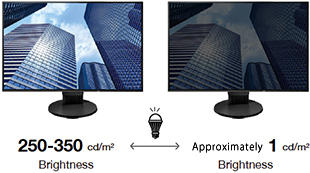 The stand features height adjustment, tilt, and swivel,
while saving space and remaining stylish. Quickly and
smoothly adjust your monitor to the perfect position.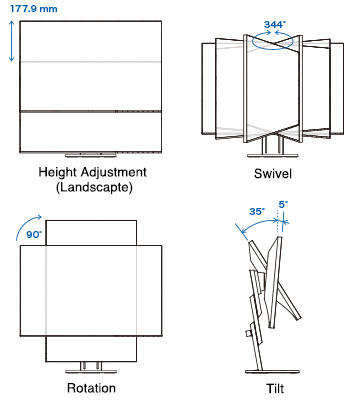 Clear View from All Angles
The monitor uses an LED-backlit IPS (in-plane
switching) LCD panel with 178° viewing angle that
minimizes color shift and contrast changes when
viewing the screen at an angle. This means that two
people sitting at the one computer can easily see the
screen – and it also makes the EV2785 perfect for
multi-monitor configurations.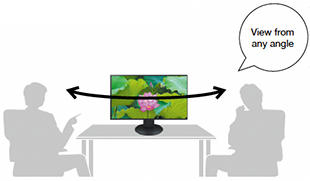 Due to the way brightness is controlled on LED
backlights, a small number of people perceive flicker on
their screen which causes eye fatigue. The FlexScan
EV2785 utilizes a hybrid solution to regulate brightness
and make flicker unperceivable without any drawbacks
like compromising color stability – even on low
brightness settings.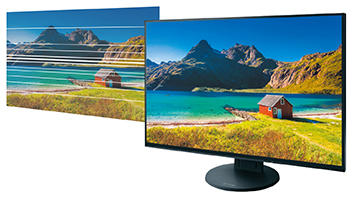 The EV2785 has speakers incorporated into the
minimalist front bezel, ensuring that sound is focused
on the user and not on people behind the monitor.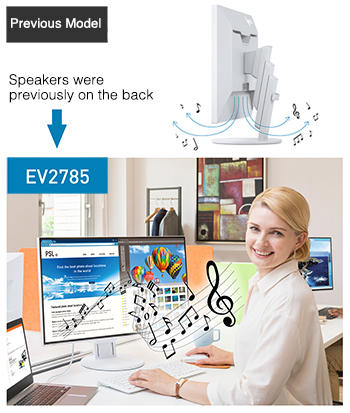 Intelligent Software to Work Better

EIZO's Screen InStyle is a free software that allows you to easily manage monitor settings such as power, color,
brightness and gamma by using your mouse instead of monitor control buttons.
Use the Auto Color Mode to assign a color mode to turn on when using specific applications such as those for
writing documents, photo viewing, creating illustrations or watching movies. When an application is opened the
screen will automatically switch to the assigned color mode, making manual switching unnecessary.

When you have two PCs connected to your monitor, switch between them with just your keyboard. Even when using
picture by picture, signals can be switched quickly and easily.
Sleep Better with Automatic Blue Light Control
The Circadian Dimming function automatically changes the color temperature of your monitor as the day
progresses. Maintain your body's natural circadian rhythm by setting the monitor to gradually reduce blue light
during the evening, helping you sleep easier
Multi-Monitor Convenience
When using multiple monitors, save time by synchronizing all the monitors with each other. If you change the color
mode, brightness or color temperature of one monitor, the rest will automatically change to the same. In addition,
when one monitor's power is turned off, all the other monitors will also turn off.


Effectively Monitor Asset Management
With Screen InStyle Server receive information such as
the model name and serial number of any monitor
connected to your network. Additionally, see information
from the computer that each monitor is connected to,
such as the OS, IP address and computer name.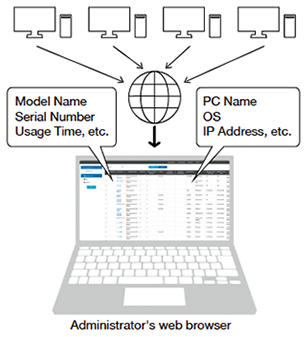 Manage Multiple Monitors from One Location
Control multiple monitors' settings such as color mode,
brightness, and eco functions from a remote location.
Furthermore, prevent unintended setting changes by
locking the operation switch.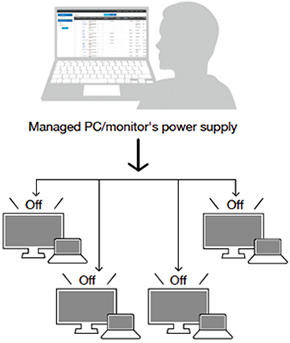 USB Type-C, DisplayPort, HDMI x 2
One USB Type-C terminal, one DisplayPort input and two HDMI inputs compatible with 4K / 60p are installed. The
USB Type-C terminal is convenient for connecting a notebook computer because it is easy to attach and detach the
cable and can also supply power. All input terminals support 4K / 60p, and animation is displayed smoothly.

The FlexScan EV2785 lets you view data from two input sources at once such as a Windows and a Mac computer
with no distracting bezel in between.

Free Up Your Workspace with a Stand Bracket
is a VESA-compliant bracket for easily mounting a client terminal such as a thin client or mini PC to the
back of the monitor's stand. The space the client terminal previously occupied is now freed up so you can make
better use of your desktop. Even with the client terminal attached you can adjust the monitor's stand freely.


A manufacturer's 5-year warranty covers all components including the LCD panel to ensure a long
service life. This warranty is 2-years or 67% longer than the standard 3-year warranty of most
monitor brands for significantly lower running costs.

EIZO guarantees this product will be free from bright sub-pixels for six months from purchase date.
See our Bright Pixel Policy for details.
Compliance with International Labels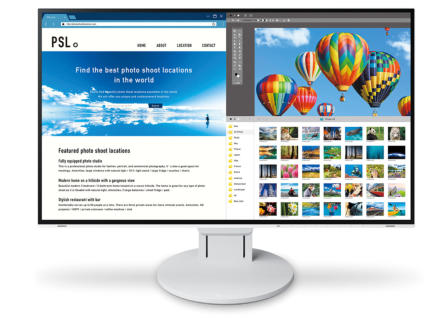 Redefining the wordspace.
The generous 27-inch screen holds a 4K resolution giving images
great sharpness and clarity. With its sleek, frameless design and
USB Type-C connectivity, the EV2785 helps you make the most of
your workspace.