<! To show Tabs ev2736w - Jim Note - Code Deleted >

27" (68 cm) LCD Monitor
Stellar results for your business and your budget.
The ergonomic and eco features of this 27" monitor make office work more comfortable while keeping power usage in check. It will also give you piece of mind with a five-year warranty which is two years longer than the standard warranty of most monitors.
Features

Specifications

Documents

Accessories

Awards & Reviews
Simple Design for Convenience
Slim Bezels
A new thin bezel design saves space on the desktop and minimizes eye movement between screens in a multi-monitor environment.


Thomson Reuters Eikon is a trademark of Thomson Reuters and its affiliated companies.

Adjustable Stand
Adjust the screen to the most comfortable angle for you and reposition it to show your work to a colleague or client. The monitor comes with a versatile stand that offers height, tilt, and swivel adjustments as well as portrait mode display.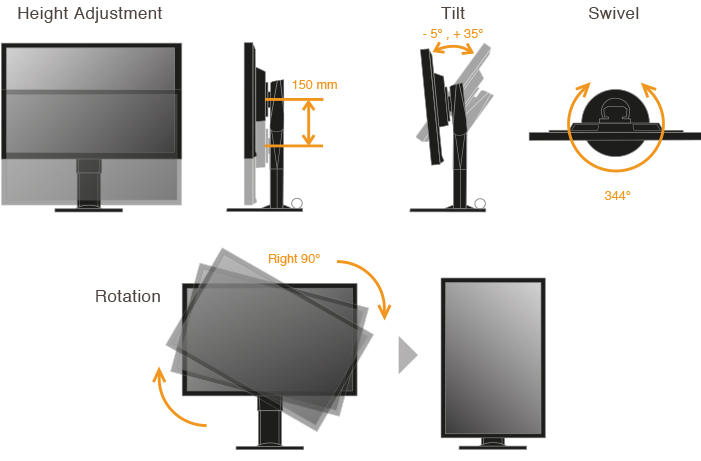 Getting Connected

Two input terminals are included for connecting to PCs. In addition, a USB hub and headphone/ audio jacks are conveniently located on the side of the monitor.
*60 Hz (2560 x 1440) signal input requires a Dual-Link DVI cable.
Ergonomics - Visual Comfort to Increase Your Productivity
Flicker-Free Images
Due to the way brightness is controlled on LED backlights, a small number of people perceive flicker on their screen which causes eye fatigue. The FlexScan EV series utilizes a hybrid solution to regulate brightness and make flicker unperceivable without any drawbacks like compromising color stability.
IPS Panel for a Clear View from All Angles
The IPS (in-plane switching) panel has 178° viewing angles so it exhibits minimal change in contrast and hue when viewed from off center. This makes it ideal for trading rooms or other multi-monitor environments.

Tireless Eyes

To prevent eye fatigue, a brightness sensor called Auto EcoView detects the changes in the ambient brightness that occur throughout the day and automatically adjusts the screen to the ideal brightness level. Auto EcoView cuts power by almost 40% compared to operating the monitor at maximum brightness.
Adjustable to Just 0.2% of Maximum Brightness
| | |
| --- | --- |
| In a dimly-lit work environment, a monitor with low brightness settings will be more comfortable to use. This monitor comes with an LED backlight that allows for adjusting the brightness to just 0.2% (about 0.6 cd/m2) of the maximum. With typical CCFL backlights the lowest you could adjust to would be a much brighter 20%. | |

Preset Modes for Optimum Viewing
Five preset modes (including two with user adjustable settings) ensure you always get the right setting for any application. You can switch modes at the touch of a button or automatically with the bundled ScreenManager Pro for LCD software.
Paper Mode and EyeCare Filter Reduce Eye Fatigue
The Paper mode preset simulates the look of printed paper and helps prevent eyestrain when reading documents. When used with EyeCare Filter (available with the bundled ScreenManager Pro software), any of several filter patters that resemble different types of paper can be applied. You can adjust the density of the filter patterns for maximum viewing comfort.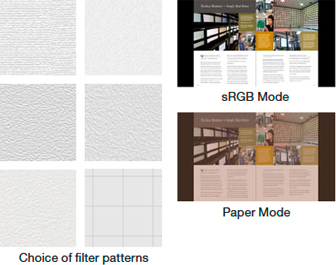 Smooth Playback of Moving Images
An overdrive circuit reduces gray-to-gray response time to just 6 ms to ensure that moving images look clean and sharp.
Environment – Energy-Saving Features to Reduce Your Eco Footprint
LED Backlights – Less Power, Longer Life

Compared to conventional CCFL backlights, LED backlights last longer and consume less power. They are also mercury-free to have minimal impact on the environment when they are eventually disposed of.
Presence Sensor for Energy Savings
A presence sensor called EcoView Sense 2 prompts the monitor to switch to power save mode when you are absent and then power on again when you return. It even works in a multi-monitor setup so all monitors remain on when you're at your desk.
Compliance with International Labels
Meets the most stringent international labels for ergonomics and energy savings like TCO Certified Displays 6.0, EPA Energy Star, and EPEAT Gold.




Economy – Lower Total Cost of Ownership
5-Year Warranty
| | |
| --- | --- |
| A manufacturer's 5-year warranty covers all components including the LCD panel to ensure a long service life. This warranty is 2-years or 67% longer than the standard 3-year warranty of most monitor brands for significantly lower running costs. | |
Color Matching
Hardware Calibration with Optional EIZO EasyPIX
EIZO EasyPIX is a hardware calibration solution that directly adjusts the monitor's color settings to ensure predictable color. EasyPIX is sold separately and consists of software and the EIZO EX2 color sensor.
Model Variations
With FlexStand, Without Stand

Cabinet Color
Gray, Black
Panel
Type
IPS
Backlight
LED
Size
27" / 68 cm (684 mm diagonal)
Native Resolution
2560 x 1440 (16:9 aspect ratio)
Viewable Image Size (H x V)
596.7 x 335.6 mm
Pixel Pitch
0.233 x 0.233 mm
Display Colors
16.77 million

Viewing Angles (H / V, typical)
178°, 178°
Brightness (typical)
300 cd/m2
Contrast Ratio (typical)
1000:1
Response Time (typical)
6 ms (Gray-to-gray)
Video Signals
Input Terminals
DisplayPort x 1 DVI-D 24 pin x 1 (with HDCP)
Digital Scanning Frequency (H / V)
31 - 89 kHz, 59 - 61 Hz (VGA Text: 69 - 71 Hz, WQHD SL: 29 - 31 Hz)
USB
Function
1 port for up stream
2-port USB hub
Standard
USB 2.0
Audio
Speakers
1.0 W +1.0 W

Input Terminals
3.5 mm stereo jack

Output Terminals
3.5 mm headphone jack

Sound Adjustment
Volume, Power Save, Source (DisplayPort)

Power
Power Requirements
AC 100 - 120 V / 200 - 240 V, 50 / 60 Hz
Maximum Power Consumption
67 W
Typical Power Consumption
24 W

Power Save Mode
Less than 0.5 W
Power Management
Power Save (VESA DPM, DisplayPort Rev. 1.1a, and DVI DMPM), Off Timer

Features & Functions
Preset Modes
FineContrast (Paper, Movie, sRGB, User1, User2)

Auto EcoView / BrightRegulator
Yes
EcoView Sense
Yes
OSD Languages
English, German, French, Italian, Japanese, Simplified Chinese, Spanish, Swedish, Traditional Chinese
Others
Screen Size (full screen, enlarge, normal), Smoothing (5 stages), Border Intensity, Color Adjustment (Brightness, Contrast, Gamma, Temperature, Saturation, Hue, Gain, Overdrive, Reset), Signal Switching, Product Information (name, serial number, resolution, operating time, etc.), OSD Menu Settings, Adjustment Lock, DDC/CI Lock, Power Indicator, Reset

Physical Specifications
Dimensions (Landscape, W x H x D)
640 x 404.5 - 554.5 x 245 mm
Dimensions (Without Stand, W x H x D)
640 x 379 x 65 mm

Net Weight
9.9 kg / 21.8 lbs
Net Weight (Without Stand)
7.3 kg / 16.1 lbs
Height Adjustment Range
150 mm
Tilt
35° Up, 5° Down
Swivel
344°
Pivot
90°
Hole Spacing (VESA Standard)
100 x 100 mm
Environmental Requirements
Operating Temperature
5 - 35 °C
Operating Humidity (R.H., non condensing)
20 - 80 %
Certifications & Standards (Please contact EIZO for the latest information.)
TCO Displays 6.0, EPEAT Gold (US), TUV/Ergonomics (including ISO9241-307), TUV/GS, c-Tick, CE, CB, cTUVus, FCC-B, Canadian ICES-003-B, TUV/S, VCCI-B, EPA Energy Star, RoHS, WEEE, China RoHS, CCC, GOST-R

Supplied Accessories
AC power cord, signal cables (DVI-D - DVI-D[dual link supported]), DisplayPort - DisplayPort), EIZO LCD Utility Disk (PDF user's manual, ScreenManager Pro for LCD [DDC/CI], EIZO ScreenSlicer software), setup guide
Warranty
Five Years
2 With current LCD technology, a panel may contain a limited number of missing or flickering pixels.
5 If the monitor is left on continuously over a long period of time, dark smudges or burn-in may appear. To maximize the life of the monitor, we recommend the monitor be turned off periodically.
Brochures
Manuals
Languages
Document
Language
Size
Download
EV2736W Setup guide
English
Chinese-Simplified
French
German
701 KB
EV2736W User's manual
English
2.54 MB
EcoView NET Ver.1.3.1 User's Manual (English)
English
917 KB
ScreenSlicer Ver.1.1.5 Software manual (English)
English
1.88 MB
ScreenManager Pro for LCD (DDC/CI) Ver.2.4.1 Software manual (English)
English
1.16 MB
EV2736W(FlexStand3) Setup guide
English
Chinese-Simplified
French
German
3.79 MB
EV2736W (FlexStand3) User's manual
English
3.07 MB
EV2736W Setup guide
Arabic
597 KB
EV2736W(FlexStand3) Setup guide
Arabic
3.73 MB
EV2736W User's manual
Chinese-Simplified
2.41 MB
EV2736W (FlexStand3) User's manual
Chinese-Simplified
2.94 MB
EV2736W Setup guide
Chinese-Traditional
641 KB
EV2736W(FlexStand3) Setup guide
Chinese-Traditional
3.92 MB
EV2736W Setup guide
Czech
595 KB
EV2736W User's manual
Czech
995 KB
EV2736W(FlexStand3) Setup guide
Czech
3.7 MB
EV2736W Setup guide
Danish
592 KB
EV2736W(FlexStand3) Setup guide
Danish
3.7 MB
EV2736W Setup guide
Dutch
592 KB
EV2736W(FlexStand3) Setup guide
Dutch
3.7 MB
EV2736W Setup guide
Finnish
591 KB
EV2736W(FlexStand3) Setup guide
Finnish
3.7 MB
EV2736W User's manual
French
2.56 MB
EV2736W (FlexStand3) User's manual
French
3.11 MB
EV2736W User's manual
German
2.55 MB
EV2736W (FlexStand3) User's manual
German
3.09 MB
EV2736W Setup guide
Greek
602 KB
EV2736W(FlexStand3) Setup guide
Greek
3.71 MB
EV2736W Setup guide
Italian
590 KB
EV2736W(FlexStand3) Setup guide
Italian
3.69 MB
EV2736W Setup guide
Korean
693 KB
EV2736W(FlexStand3) Setup guide
Korean
3.87 MB
EV2736W Setup guide
Norwegian
591 KB
EV2736W(FlexStand3) Setup guide
Norwegian
3.69 MB
EV2736W Setup guide
Polish
594 KB
EV2736W(FlexStand3) Setup guide
Polish
3.7 MB
EV2736W Setup guide
Portuguese
593 KB
EV2736W(FlexStand3) Setup guide
Portuguese
3.7 MB
EV2736W Setup guide
Russian
600 KB
EV2736W User's manual
Russian
2.58 MB
EV2736W(FlexStand3) Setup guide
Russian
3.72 MB
EV2736W (FlexStand3) User's manual
Russian
3.12 MB
EV2736W Setup guide
Spanish
592 KB
EV2736W(FlexStand3) Setup guide
Spanish
3.69 MB
EV2736W Setup guide
Swedish
591 KB
EV2736W(FlexStand3) Setup guide
Swedish
3.7 MB
EV2736W Setup guide
Turkish
593 KB
EV2736W(FlexStand3) Setup guide
Turkish
3.7 MB
Color Matching Tool
- Color matching tool for professionals and amateur SLR camera users
- Hardware calibration for screen-to-print color matching

Panel Protector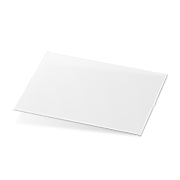 - Protect against dust and scratches
- Fit between screen and bezel

Arms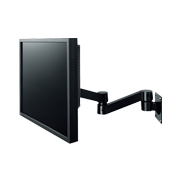 Position the monitor almost anywhere with forward/backward and side-to-side movement
Arms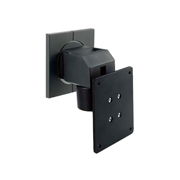 35° up tilt and 180° swivel wide adjustment range