Features

Specifications

Documents

Accessories

Awards & Reviews
Immerse Yourself in the Game with Ultra-Slim Frames

The FORIS FS2434 features an extremely thin 6 mm frame on both sides and the top. With a multi-monitor gaming environment, you get almost seamless viewing for a more immersive and enjoyable experience.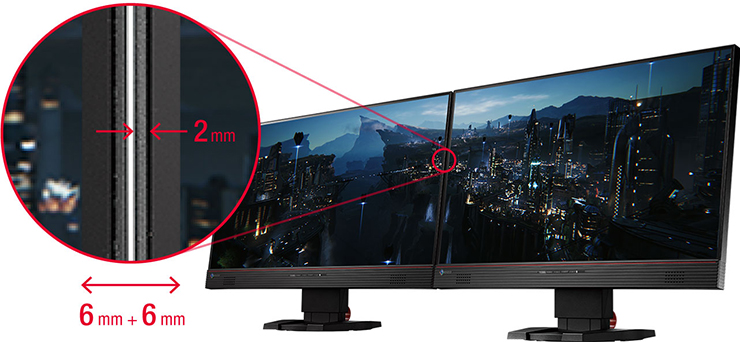 Master the Game with Smart Visibility Technologies
EIZO developed Smart Insight technology to vastly improve visibility in dark areas of the screen. With Smart Insight 2, you can see the vital details that would otherwise be hidden so you can surprise your opponent before he surprises you.
| | |
| --- | --- |
| | Smart Insight 2 increases the brightness and color saturation to spot enemies that would otherwise blend in with the background (5 user-adjustable settings) |
| | This EIZO-patented super resolution technology, improves the visibility of low-resolution games or videos (5 user-adjustable settings). |
| | Smart Detection differentiates where on the screen a video or game is displayed and applies Smart Insight 2 or Smart Resolution while leaving other areas untouched. |
Full Image Control with G-Ignition Software or Remote Control
The FORIS FS2434 monitor is designed for any entertainment content such as games, videos, photos or web. With G-Ignition software or the remote control, you can adjust the monitor to your preferred color settings or download the color profiles available on gaming.eizo.com.

IPS Panel with Vivid and Consistent Color
| | |
| --- | --- |
| The IPS panel offers wide viewing angles, vivid color, and deep blacks. | |
Zero Delay Gaming with Extremely Low Input Lag

The time lag between when a signal is input into the monitor and then shown on the screen called the input lag. A delay in image display results in a delayed response from the player. EIZO developed its own integrated circuit with virtually no input lag.
All in One Gaming with Multiple Connections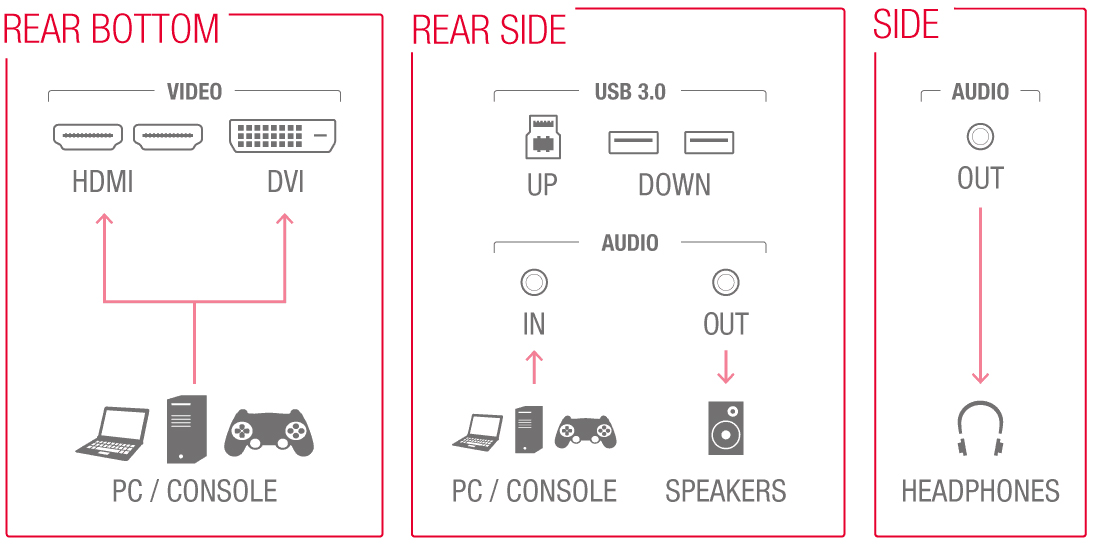 Gaming with Comfort

Play games or watch videos in comfort with a stand that offers a wide range of adjustment options. The back of the monitor has a built-in handle for carrying the monitor to a LAN party or gaming tournament.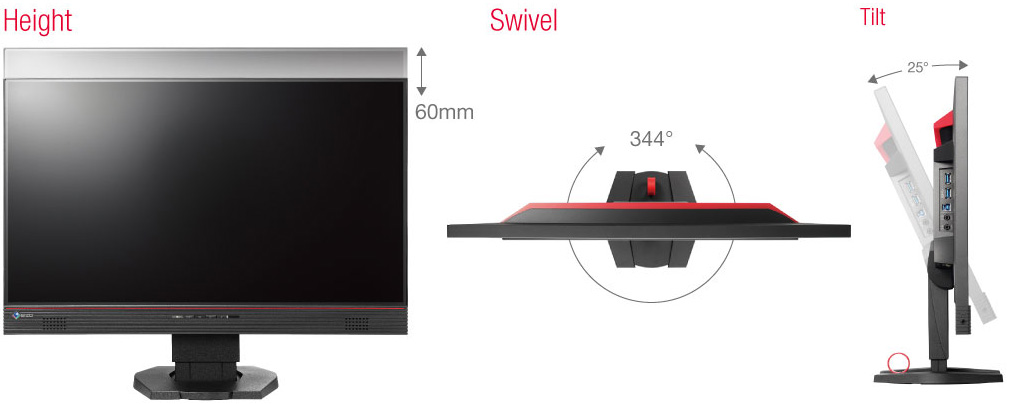 Flicker-Free Screen Reduces Eye Fatigue
The FORIS FS2434 offers flicker-free viewing at all brightness levels. Now you can play games or work on still images for long hours without worrying about the eye fatigue caused by a flickering screen.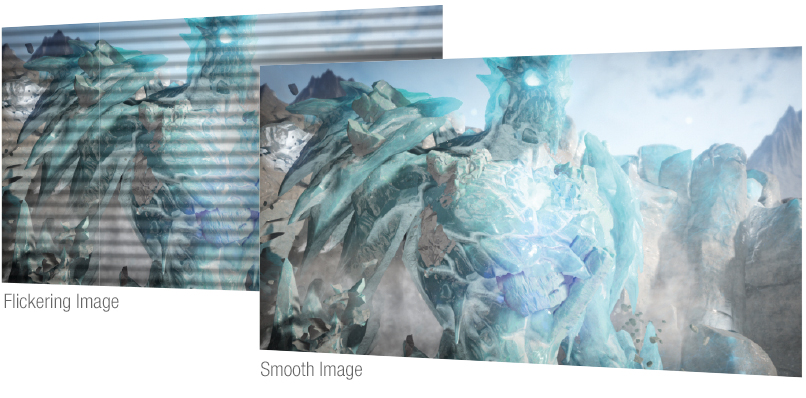 Built to Last Five Years
A five-year warranty offers a long service life, and compliance with leading standards such as Energy Star and TÜV Ergonomics ensure a better working environment.

The terms HDMI and HDMI High-Definition Multimedia Interface, and the HDMI Logo are trademarks or registered trademarks of HDMI Licensing, LLC in the United States and other countries.
Unreal Engine 4 images are provided courtesy of EPIC GAMES. All product names are trademarks or registered trademarks of their respective companies. ©2004-2014, EPIC GAMES, inc.
Cabinet Color
Black
Panel
Type
IPS
Backlight
LED
Size
23.8" / 60 cm (604 mm diagonal)
Native Resolution
1920 x 1080 (16: 9 aspect ratio)
Viewable Image Size (H x V)
527.0 x 296.4 mm
Pixel Pitch
0.2745 x 0.2745 mm
Grayscale Tones
256 tones
Display Colors
16.77 million
Viewing Angles (H / V, typical)
178°, 178°
Brightness (typical)
250 cd/m2
Contrast Ratio (typical)
1000:1 (5000:1 with ContrastEnhancer)
Response Time (typical)
4.9 ms (Gray-to-gray)
Video Signals
Input Terminals
PC: DVI-D 24 pin (with HDCP)
PC / AV: HDMI x 2
Digital Scanning Frequency (H / V)
HDMI: 15 - 68 kHz, 49 - 61 Hz
DVI: 31 - 68 kHz, 59 - 61 Hz (VGA Text: 69 - 71 Hz)
Sync Formats
PC: Separate
AV: -
USB
Function
1-port for monitor control
2-port USB hub
Standard
USB 3.0
Audio
Speakers
0.5 W + 0.5 W (stereo)
Input Terminals
PC: 3.5 mm stereo jack x 1
PC / AV: HDMI x 2
Output Terminals
PC / AV: 3.5 mm stereo jack, 3.5 mm headphone jack
Sound Adjustment
Volume, Mute, Sound Level, Power Save, Source (HDMI)
Power
Power Requirements
100 - 120 V / 200 - 240 V, 50 / 60 Hz
Maximum Power Consumption
46 W
Typical Power Consumption
15 W
Power Save Mode
Less than 0.5 W (HDMI only, Speakers non-operating)
Standby Mode
Less than 0.5 W (Power button off)
Power Management
Power Save (VESA DPM and DVI DMPM), Off Timer
Features & Functions
Preset Modes
PC / AV: User1, User2, Game(Dark scene), Game(Light scene), Cinema, Web/sRGB,Paper
Auto EcoView / BrightRegulator
Yes (Deafult: Enabled)
OSD Languages
English, French, German, Italian, Japanese, Simplified and Traditional Chinese, Spanish, Swedish
Others
Smart Insight 2, Smart Resolution, Smart Detection, Product Information (name, serial number, resolution, operating time, etc.), OSD Menu Settings, HDMI Color Space, Adjustment Lock, Power Indicator, Auto Color, Reset
Physical Specifications
Dimensions (Landscape, W x H x D)
539.4 x 398.3 - 458.3 x 200 mm
Dimensions (Without Stand, W x H x D)
539.4 x 344 x 52.5 mm
Net Weight
5.2 kg / 11.5 lbs
Net Weight (Without Stand)
4.0 kg / 8.8 lbs
Height Adjustment Range
60 mm
Tilt
25° Up, 0° Down
Swivel
344°
Hole Spacing (VESA Standard)
100 x 100 mm
Environmental Requirements
Operating Temperature
5 - 35 °C
Operating Humidity (R.H., non condensing)
20 - 80 %
Certifications & Standards (Please contact EIZO for the latest information.)
CB, TUV/GS, CE, cTUVus, FCC-B, Canadian ICES-003-B, TUV/S, VCCI-B, TUV/Ergonomics, RCM, GOST-R, RoHS, WEEE, EPEAT GOLD(US)
Supplied Accessories
AC power cord, signal cable (DVI-D - DVI-D), USB cable, audio cable, EIZO LCD Utility Disk (PDF user's manual), cable holder, setup guide, 4 screws for mount option, remote control with battery
Warranty
Five Years
2 With current LCD technology, a panel may contain a limited number of missing or flickering pixels.
5 If the monitor is left on continuously over a long period of time, dark smudges or burn-in may appear. To maximize the life of the monitor, we recommend the monitor be turned off periodically.
Brochures
Manuals
Languages
Document
Language
Size
Download
FS2434 / User's manual
English
9.29 MB
G-Ignition Ver.1.0.2 User's manual
English
906 KB
FS2434 / Setup guide
English
Chinese-Simplified
French
German
Russian
2.4 MB
FS2434 / Setup guide
Arabic
1.54 MB
FS2434 / User's manual
Chinese-Traditional
9.56 MB
FS2434 / Setup guide
Chinese-Traditional
1.75 MB
FS2434 / Setup guide
Czech
1.53 MB
FS2434 / User's manual
Czech
1.22 MB
FS2434 / Setup guide
Danish
1.56 MB
FS2434 / Setup guide
Dutch
1.55 MB
FS2434 / Setup guide
Finnish
1.53 MB
FS2434 / User's manual
French
9.34 MB
FS2434 / User's manual
German
9.28 MB
FS2434 / Setup guide
Greek
1.56 MB
FS2434 / Setup guide
Italian
1.56 MB
FS2434 / Setup guide
Korean
1.62 MB
FS2434 / Setup guide
Norwegian
1.55 MB
FS2434 / Setup guide
Polish
1.53 MB
FS2434 / Setup guide
Portuguese
1.57 MB
FS2434 / User's manual
Russian
9.33 MB
FS2434 / Setup guide
Spanish
1.56 MB
FS2434 / Setup guide
Swedish
1.56 MB
FS2434 / Setup guide
Turkish
1.56 MB
February 12, 2015

Recommended Product (4 out of 5 stars)

"Overall, the Foris FS2434 is a pretty and keenly priced gaming monitor."
Benchmark (Poland)

January 15, 2015

Product of the Year 2014 - Readers' Choice for LCD monitors
Benchmark (Poland)

November 12, 2014

4.5 out of 5 stars

"EIZO FORIS FS2434 gave us a very positive impression. In our opinion, ideally suited to both gamers and people in amateur graphic or image processing."
October 13, 2014

Highly Recommended Award 2014

"In the end that leaves us with a monitor that offers superior picture quality to pretty much any other gaming monitor out there, and we think that many gamers will appreciate this after having tried it."
Online PC (Switzerland)

September 29, 2014

Very good

"...striking with its slim design and narrow edges."
Xtreme Harware (Italy)

August 28, 2014

Gold award (4.4 stars)

"Play without sacrificing quality."

Online PC (Germany)

June 11, 2014

Very Good

"The Eizo EV2736W leaves nothing to be desired..."
February 24, 2014

Score: 5 stars out of 5

"...the FG2421 is perfectly up to fast-action gaming, notably thanks to its Turbo 240 mode, its ultra-high contrast and wide viewing angles."
Feb 21, 2014

FG2421 Video Review
Gaming Freaks (Netherlands)

February 19, 2014

7.9 stars - Superb gaming monitor!

"This screen is perfect in every way."
Pure PC (Poland)

February 10, 2014

Product of the Year 2013 (1st Place Gold for Monitors)
January 26, 2014

Score: 8.6 Good

"A-class monitor that is perfect for any kind of gaming, with a wealth of customizable settings to ensure you're getting the very best picture quality."
Clubic.com (France)

January 15, 2014

Rating: Excellent

"The Foris FG2421 is certainly among the best monitors gamer at the moment."
PCtipp (Switzerland)

January 2014

Rating: 4.5 / 5

"Conclusion: Eizo's FG2421 is through and through a top model, and with a street price of 649 francs not cheap. But it is worth every cent due to its excellent features, image quality, operation and the 5-year warranty."
Gamesnack (Belguim)

December 29, 2013

Rating: 80%

"The question was whether the screen makes a tangible difference to a non-pro-gamer. We can not emphasize this enough, we are not pro-gamers, but the difference is huge."
December 2013

Product of the Year 2013
PC3 Magazine (Hong Kong)

November 25, 2013

2013 Power Award
Player Magazine (Germany)

January 2014

Rating: Excellent

"With the FORIS FG2421, EIZO succeeded in brilliant performance for a gaming monitor which in conjunction with a normal gaming PC is really worth its price and sets the standard for high-speed gaming."
November 22

Rating: 9.5 / 10

"The EIZO FORIS FG2421 provides none other than THE screen for players."
Chip Online (Germany)

November 14

Rating: 93.6% / 5 stars

"The Eizo Foris FG2421 proves to test as an excellent monitor for gamers, but also benefits all other users with extremely high image quality."
ExtraHardware (Czech Republic)

November 14, 2013

We Want It! Award

"Foris FG2421 as a gaming monitor clearly scores. It succeeded in almost everything a player could want…"
Xtreme Hardware (Italy)

November 12, 2013

Gold award 4.5 stars

"With the 240 Turbo, the FG2421 is the new benchmark for gaming. That's it!"
November 07, 2013

"The overall gaming performance of the Eizo FG2421 was very good and we were pleased with what we saw. ...Being the first VA 120Hz model on the market is also an achievement and clearly it can offer some advantages over TN Film panels. "
Pure PC (Poland)

November 05, 2013

Recommended 4.5/5 stars

"The VA panel in EIZO FORIS FG2421 gives one important advantage over the monitors equipped with a TN - five times better contrast. A big surprise in the new model is also the level of ghosting, which is low, even in comparison with IPS."
01net (France)

October 31, 2013

5/5 stars

"This new EIZO monitor is a revolution. The fastest VA panel we ever tested."
SweClockers (Sweden)

October 31, 2013

Excellent award

"EIZO FORIS FG2421 is an outstanding gaming screen that does not compromise on the colors."
GameStar Magazine (Germany)

October 30, 2013

Platinum Award - 95/100

"EIZOs FG2421 impresses with a response time of less than one millisecond and the innovative 240-Hz mode as the fastest games TFT ever. Thanks to VA-Panel very good overall image quality."
October 30, 2013

Highly Recommended award 2013

"EIZO FORIS FG2421 is a small revolution in gaming monitors, combining great picture quality with speed."
October 30, 2013

10 Overall Score

"The FORIS FG2421 monitor is the new leader in the gaming market. It supports a high 240Hz refresh rate on an excellent quality VA panel making the perfect combo for gaming performance and quality. The best monitor gamers can buy. "




PC Games Hardware (Germany)

October 30, 2013

Top Technology

"The FG2421 is unprecedented in the gaming world in very high contrast and fluid image with a long warranty."